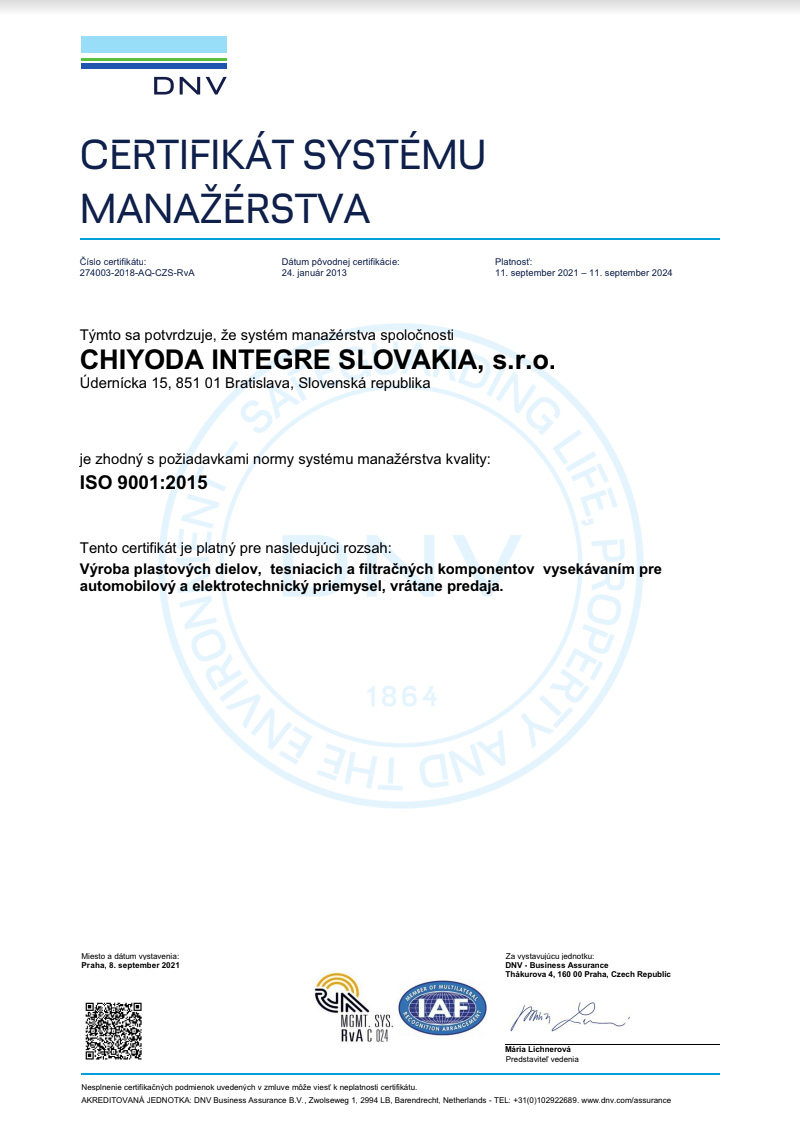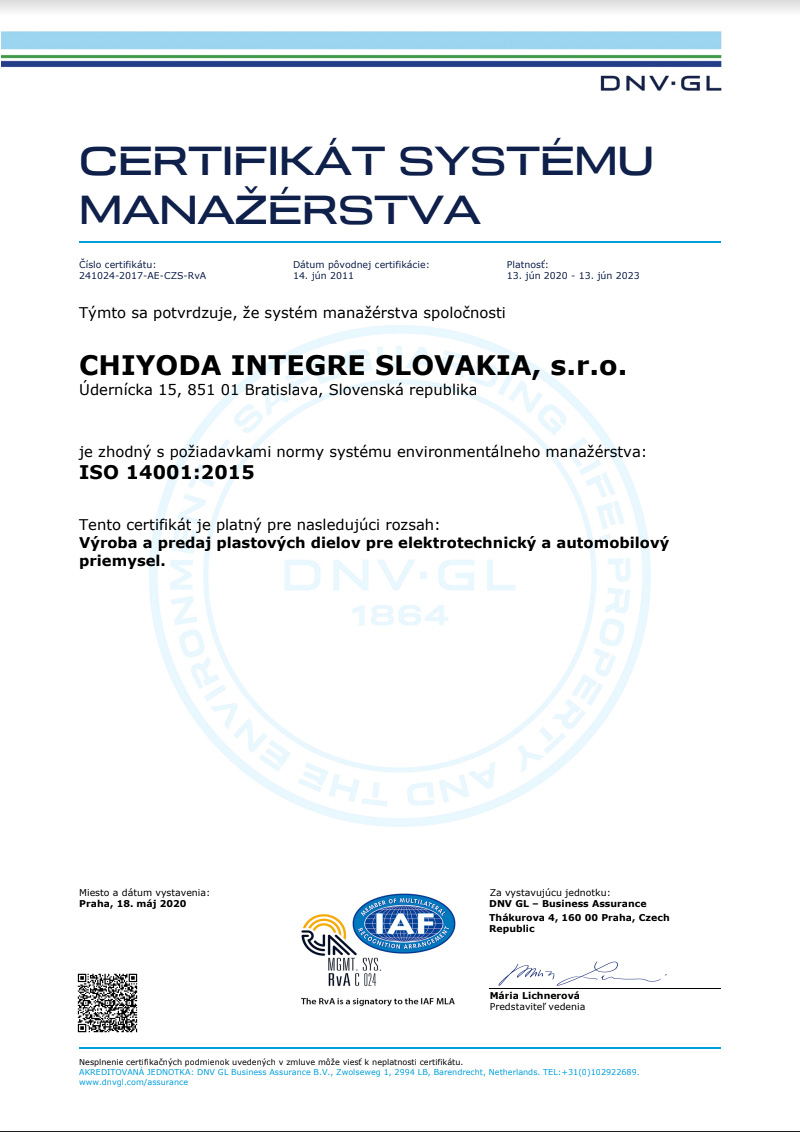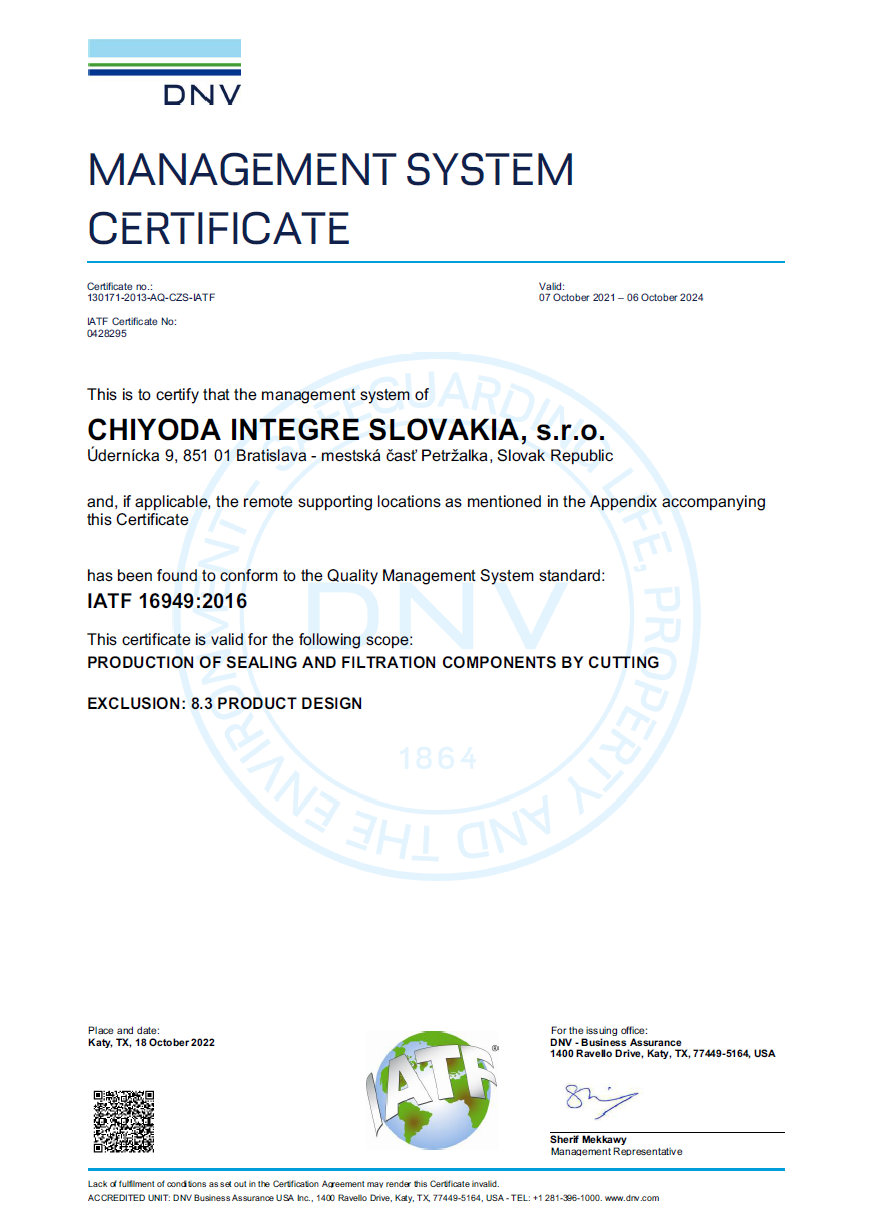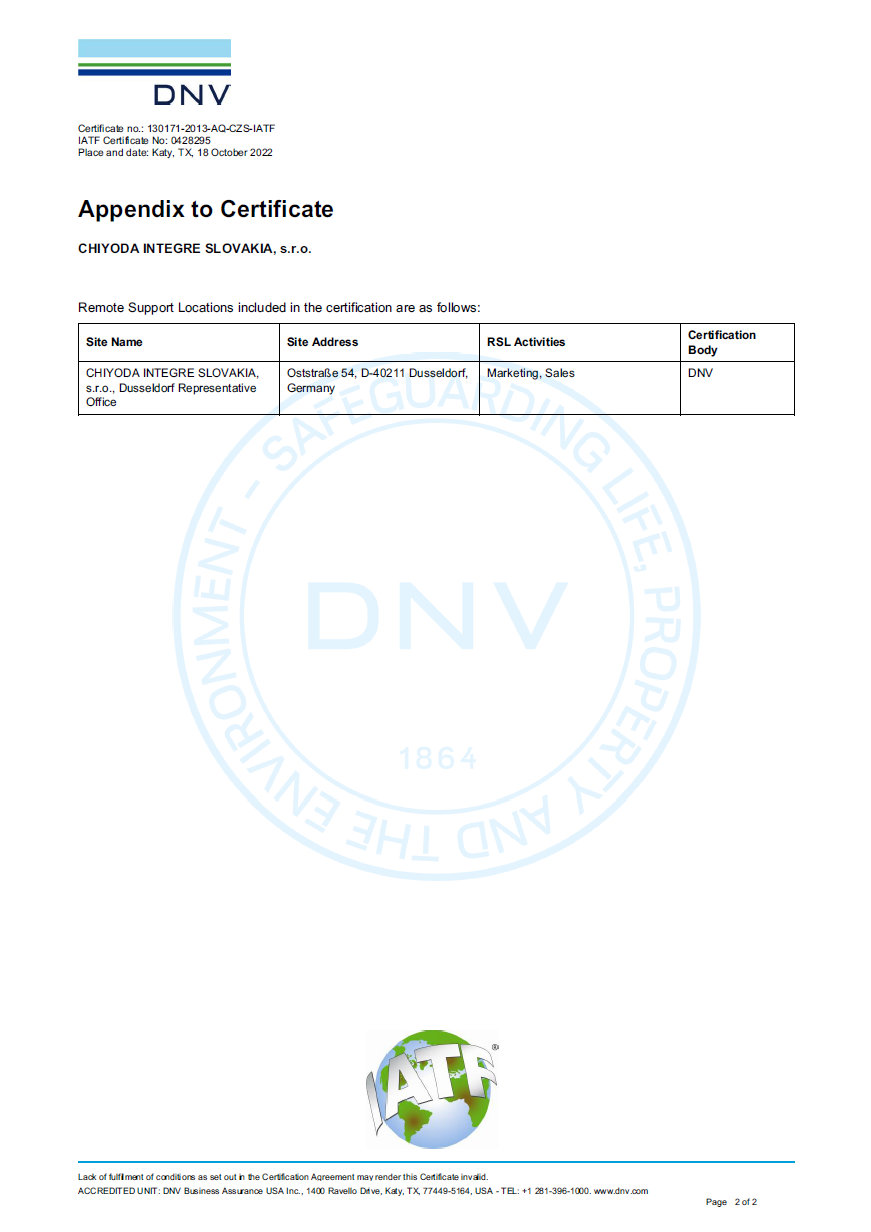 Quality
Our company established in 2011 and uses the Quality Management Systems in the production and sale of components for electronic and automotive industries according to STN EN ISO9001: 2015 and also an environmental management system in the production and sale of components for electronic and automotive industries according to STN EN ISO14001 : 2015.
In January 2013 the company obtained the certificate according to EN ISO/TS16949 (since 2018 IATF16919), thus confirming that the quality management system is operational and effective and customers can confidently expect a required and constant level of production quality.
Our approach will continue to strive for continuous improvement while meeting the needs of our customers.
Our Quality Systems is based on the fundamental principles associated with people involvement, a high degree of training and the scientific method expressed in terms of data collection and statistical analysis and process intent.
Our Integrated Management Systems emphasize on:
People and Teams (Including suppliers & customer)
Process Improvement
Training and Education
Statistics
Quality Activities
This means the emphasis is placed on improving skills, techniques, product and process knowledge and market knowledge by employing statistical quality control where possible.
Company policy
Our Mission
We strive to promote the welfare of the public and the advencement of a global society.
We strive to ensure fair profits for all stakeholders.
We strive to cultivate the personal development of our employees.
We strive to contribute to environmental conservation and to leave a healthy global environment for future generations.
Code of Conduct
The Code of Conduct sets forth in more detail the values represented in our mission, provides all executives and other employees with clear guidelines for their actions and decisions, and presents our philosophy inside and outside our company.
Responsibility to Stakeholders
We will achieve a steady increase in our company value in order to create an attractive company.
We will conduct transactions with all our customers in a fair manner and act in their best interest.
We will procure the best and optimum business resources through fair transactions.
We will respect each other's individuality and values and cooperate with each other to create a healthy work environment.
Compliance
We will observe laws, regulations, company rules, social behaviour norms, and constantly strive to raise our ethical standards in all our business activities across the world.
Accounting and Financial Reporting
All executives and other employees involved in accounting and financial reporting will comply with laws and regulations related to accounting, and provide accounting and financial reports based on properly prepared account books and records in accordance with appropriate internal control procedures.
Management system
We enforce quality and environmental protection management system in compliance with international standards ISO 9001:2015, ISO 14001:2015 and IATF 16949:2016 as the basic management instruments in all our current activities and strategic intentions aiming for continuous improvement of company's environmental profile.
We commit ourselves to constantly improving our management system and our environmental behaviour.
We carry out internal audits, evaluate process efficiency and in this way we are continuously contributing in improvement of our management system.
We apply a policy of social responsibility, including the social, environmental and corporate governance areas.
We are committed to fulfilling all mandatory requirements
We reject all forms of corruption and adhere to honest business practices.
We develop relationship only with suppliers who are reliable on long-term basis as they influence the quality of our products.
We offer safe workplace and train employees to raise their qualifications and so contribute to improve the quality of our products.
We apply error preventive methods in terms of production process and aim to achieve zero non-conformity of products.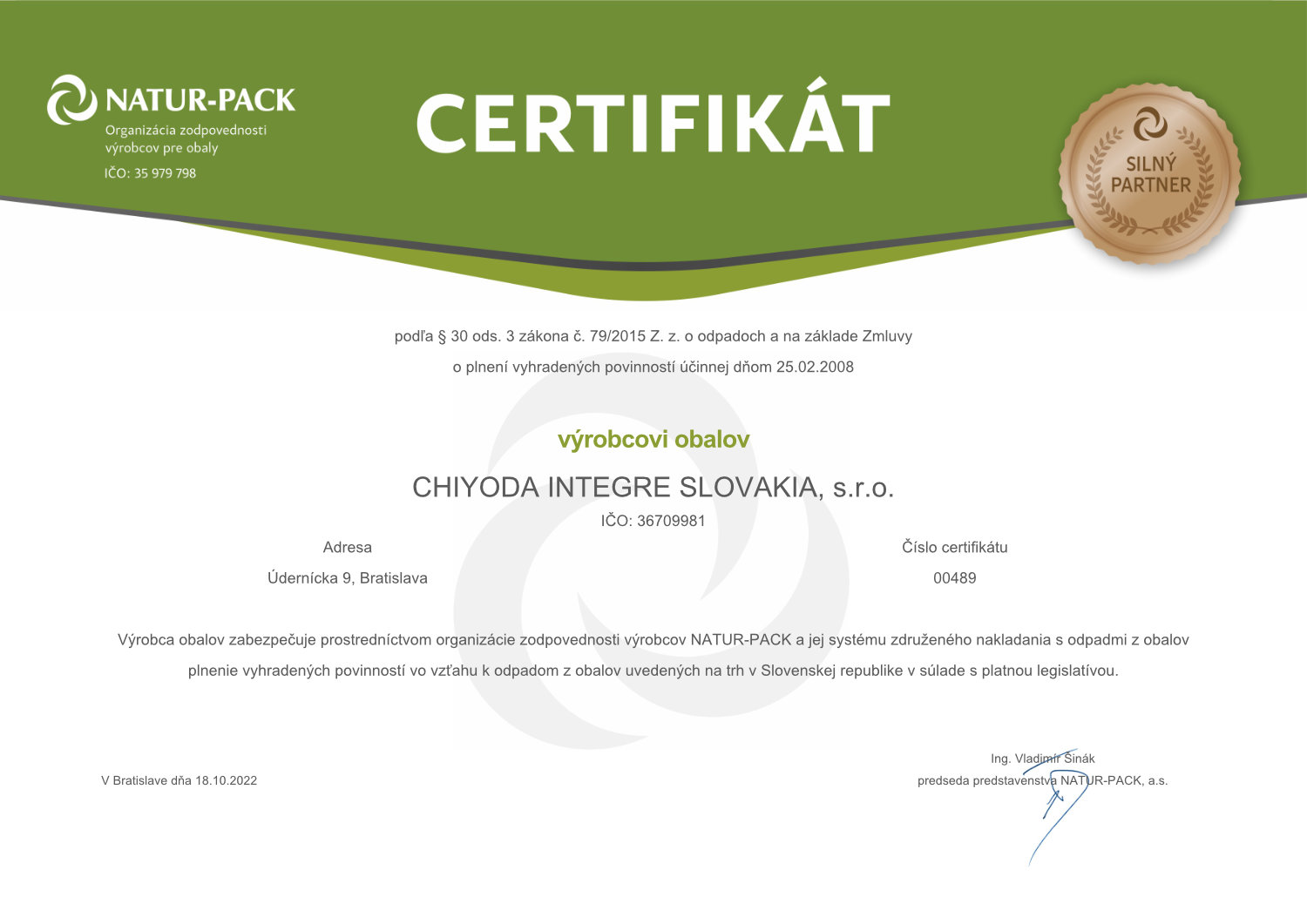 Environmental policy
We are committed to protecting the environment and introducing measures to prevent pollution.
We use effectively all types of energy, fuels, raw materials and materials, to avoid excessive production of waste, waste water and emissions, thus contribute to saving of natural resources and reduce the burden on individual components of the environment.
We apply the principles of pollution prevention in all production and non-production activities and technological processes and improve workplace of all employees in terms of environment.
We are improving the working environment of our employees in relation to the environment.
In order to raise employee awareness of environmental matters and promote the environmental policy we organize systematic trainings.
All employees of our company CHIYODA INTEGRE SLOVAKIA, ltd. are required to follow the rules and respect the quality and environmental policy entirely.